A BraiNet® for every patient.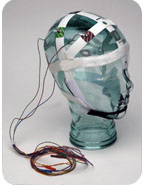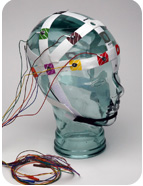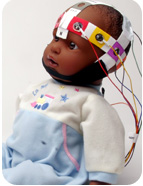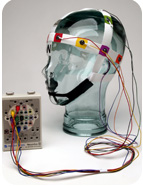 Anytime. Anywhere.
EEG needs to be available to patients 24 hours per day 7 days per week. Waiting until the next "work day" to do the EEG is not fast enough for good patient management. Often, EEG is not available around the clock, 7 days/week and even when there is an "on call tech" the time it takes to get to the hospital and perform the procedure can take several hours. The BraiNet® makes EEG set up possible for a healthcare professional "on site" to apply the electrodes.
The BraiNet® is designed to be used for any EEG – the "stat" EEG in the ICU or ER or other area of the hospital as well as for the routine EEG in the Neurodiagnostic Lab or Neurofeedback office. It is ideal for long-term monitoring and can stay on the patients head for several days – in the epilepsy monitoring unit (EMU) – in any intensive care unit (ICU/NICU/PICU/NNCU) or for ambulatory EEG (AEEG). Our NEW Sleep BraiNet® is perfect for overnight polysomnography in the sleep lab or in the patient's home.
Safe.
By using fully disposable products, we eliminate the risk of transmitting infections from EEG supplies.
Fast.
All BraiNet® Templates slip on the head in seconds.
Accurate.
All BraiNet® Templates are based on the 10/20 measurement system.
Easy.
Our color-coded BraiNet® method makes it easy to see where the electrodes should be placed - The solid colors are positioned on the left and corresponding striped colors on the right side of the BraiNet®.